Fortis Box
Tanks for the transport of diesel oil
Reliable tanks for the safe storage and dispensing of diesel oil are a perfect solution for transport companies and agricultural holdings. They save your time as you do not have to waste it on unnecessary breaks in production – you always have the fluids at your disposal whenever you need them. The modern Splash Wall system reduces fluid movement during transport, making transport easy and much safer.
LEARN MORE ABOUT
THE TANK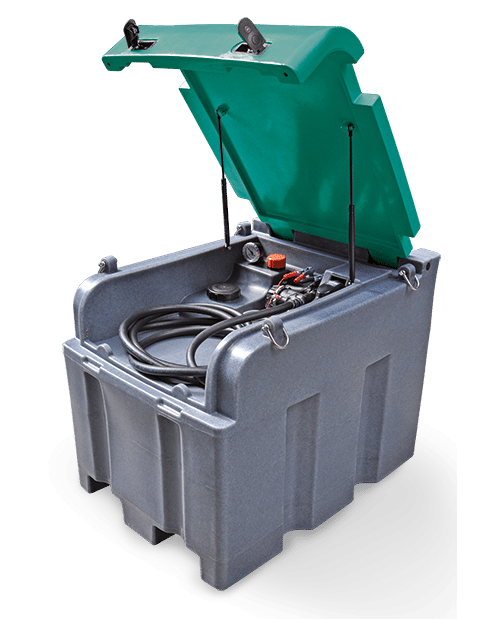 CAPACITY 400 L
perfect capacity for stocking a large reserve of diesel oil
K24 counter
electronic flow meter with a calibration option equipped with a 4-digit display and a 6-digit Total counter
PUMP 12 V 36 OR 50 L/MIN
electric pump powered with a 12 V current with the capacity of 36 or 50 l per minute
DISPENSING HOSE 6 M ¾"
long and convenient dispensing hose makes it easier to draw fluids from the tank
A60 AUTOMATIC NOZZLE
automatic dispensing nozzle with a 3-step nozzle lock enabling user-free filling
pump 12 V 36 or 50 L/MIN
A60 automatic nozzle
dispensing hose 6 m ¾"
supply cables 4 m
filling cover 4"
flap on gas springs closed with two locks
K24 counter
manual level indicator
replaceable nozzle holder
transport shackles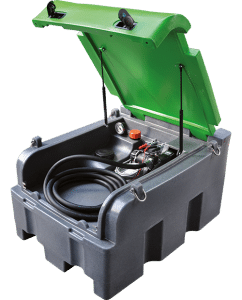 Fortis Box 200
A practical tank for the storage and transport of diesel oil with Splash Wall technology which reduces fluid movement during transport, making transport safer.
| Capacity | Width | Height | Length |
| --- | --- | --- | --- |
| 200 l | 0,80 m | 0,58 m | 1,07 m |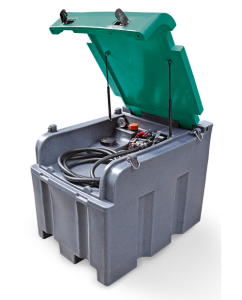 Fortis Box 400
An optimally sized tank for diesel oil - a perfect fit for farms and construction sites.
| Capacity | Width | Height | Length |
| --- | --- | --- | --- |
| 400 l | 0,80 m | 0,84 m | 1,07 m |
AVAILABLE DISTRIBUTION SYSTEMS
poznaj dedykowane dla zbiornika systemy zarządzania rozchodem paliw i innych płynów eksploatacyjnych.
No linked dispensing systems
BENEFITS FOR
YOUR COMPANY
1.
An opportunity to transport diesel oil quickly and safely
2.
Time savings, no unnecessary downtime
3.
Splash Wall – a system reducing fluid movement during transport
4.
Makes it possible to supply diesel oil directly to where the machines work
5.
Made of weather resistant material
6.
High level of security for the transported fuel thanks to the durable structure