System GIR
System kontroli i monitorowania gospodarki płynami eksploatacyjnymi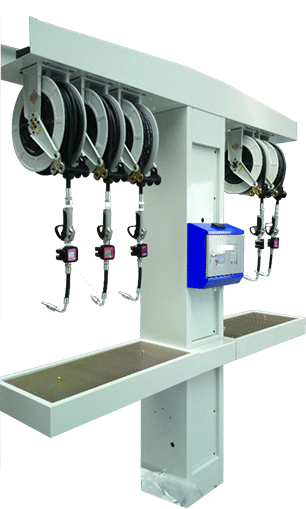 Gospodarka płynami eksploatacyjnymi w warsztacie to jeden z wielu problemów z jakimi musza borykad się właściciele warsztatów samochodowych, firm transportowych czy w różnego typu obiektów przemysłowych. Płyny takie jak oleje silnikowe, przekładniowe, chłodnicze nie należą do tanich, a mimo to nadal bardzo często zapominamy o tym, żeby spróbowad zamknąd obieg płynów z niekontrolowanego w taki, gdzie będziemy na bieżąco mied informację o poziomie płyny oraz jego rozchodach – zarówno kto pobierał płyn i jak i do jakiego pojazdu. Magistrala olejowa wraz z system monitoringu i kontroli została opracowana w odpowiedzi na rosnącą liczbę pytań:
Czy mogę zrobid coś, żeby zacząd naprawdę kontrolowad płyny w swoim przedsiębiorstwie?
Czy i ile tracę pieniędzy na braku kontroli?
Czy moi pracownicy uczciwie pobierają płyny do pojazdów?
Czy można zrobid coś z ciągłym bałaganem przy miejscu dystrybucji oleju?
Czy mogę zwiększyd bezpieczeostwo oraz komfort pracy moich pracowników?
To zautomatyzowany system połączonych ze sobą urządzeo, które jako całośd w kompleksowy sposób zarządzają gospodarką płynami w przedsiębiorstwie za użytkownika.
Pracownik ma do dyspozycji pistolet wydawczy, którym może bezpośrednio do pojazdu, po zalogowaniu na terminalu wydad płyn. Terminal uniemożliwia nieuprawnionym użytkownikom i pojazdom pobranie płynów, zapisuje wszystkie informacje o danym poborze płynu (pracownik, pojazd, data, ilośd płynu itd.) i automatycznie wysyła dane do oprogramowania raportującego. Rola pracownika w takim systemie sprowadza się do codziennej kontroli systemu w oprogramowaniu i ewentualnym zamówieniach kooczących się płynów.
Zamontowanie i rozpoczęcie korzystania z systemu pozwala:
Zwiększyć zyski firmy poprzez:

Skrócenie czasu pracy pracowników oraz podniesienie liczby obsłużonych pojazdów w ciągu dnia;
Ograniczenie błędów popełnianych przez pracowników;
Ograniczenie kradzieży płynów eksploatacyjnych;
Kontrole stanów magazynowych i niedopuszczanie do pojawienia się braków, a co za tym idzie przestoju w pracy

Podnieść komfort pracy pracowników poprzez zwiększenie czystości stanowiska pracy oraz bezpieczeństwa na stanowiskach;
Ograniczyć do minimum liczbę osób zaangażowanych do kontrolowania i monitorowania gospodarki płynami.
System dystrybucji płynów jest indywidualny dla każdego przypadku. Każdy warsztat posiada inną gamę używanych płynów oraz inny sposób ich magazynowania oraz zakupu . Dlatego też możliwa jest budowa prostych punktów wydawczych składających się z jednego punktu wydawczego składającego się z wózka na beczkę oleju, pompy, licznika i pistoletu. Jednak aby całkowicie zoptymalizować procesy i uzyskać oszczędności i zmaksymalizować zyski najlepiej zainwestować w kompletny system monitoringi i kontroli składający się z:
Wychodząc naprzeciw wymaganiom klientów i tworząc systemu o najwyższym współczynniku niezawodności na rynku dobieramy i stosujemy komponenty najwyższej jakości na rynku firm PIUSI oraz RAASM. W tym przede wszystkim:
Pompy pneumatyczne i elektryczne