SYSTEM
PETROLEO GEEK ONE

System kontroli i monitoringu GEEK One to zaawansowany technologicznie terminal polskiej produkcji, który zapewnia kompleksową gospodarkę paliwem w przedsiębiorstwie. Zawiera wszystkie potrzebne elementy, aby zapewnić wygodę użytkowania, pewność oraz bezpieczeństwo. Posiada podwójną identyfikację – zarówno kierowcy jak i użytkowników za pomocą kart zbliżeniowych. Dzięki zaawansowanym algorytmom pozwala zwiększyć kontrolę nad procesami wykrywając nieprawidłowości alarmując o tym użytkownika.
Dwustopniowe logowanie
do terminalu – kierowcy oraz pojazdu
Rejestracja ilości wydawanego paliwa
do pojazdu oraz przebiegu
Kontrola poziomu paliwa
w zbiorniku
Przelicznie tankowań
na temperaturę referencyjną 15 °C
Zdjęcia robione tankującym
w czasie logowania do terminala
System detekcji wycieku
międzypłaszczowego
Podstawowe cechy:
Dwustopniowa identyfikacja kierowcy i pojazdu za pomocą kart zbliżeniowych;
Możliwośd wprowadzenia stanu licznika pojazdu;
Wydawanie paliwa w temperaturze referencyjnej 15 C
Bardzo dokładna sonda pomiarowa paliwa mierząca poziom paliwa w czasie rzeczywistym i przekazująca go do oprogramowania;
Możliwośd wprowadzania dostaw paliwa do systemu, zarówno z oprogramowania jak i terminalu;
Możliwośd odcinania pompy przy niskim stanie paliwa.
Duży, kolorowy wyświetlacz na którym widoczny może byd poziom paliwa,, zalogowany kierowca i pojazd, status sieci GSM,
Wbudowana kamera pozwalająca robid zdjęcia osobom tankującym;
Wbudowany system kontroli międzypłaszczowej spełniający wymagania UDT i przepisów polskiego prawa;
Niezawodna komunikacja za pomocą sieci GPRS – zapewniająca dostęp do terminalu za pomocą sieci www, z każdego miejsca na Świecie;
Możliwośd posiadania wielu terminali w jednym oprogramowaniu;
Zaawansowane oprogramowanie DMS pozwalające monitorowad, kontrolowad wszystkie obszary związane z paliwem oraz tworzyd wszelk iego typu raporty.
Help Desk Petroleo składający się z profesjonalistów pomagających w każdym aspekcie gospodarki paliwem w przedsiębiorstwie
Możliwośd obsługi jednej pompy.
Możliwośd podania ilości paliwa, która ma byd wydana do pojazdu;
Poziom paliwa widoczny na wyświetlaczu
Powiadomienia SMS i e-mail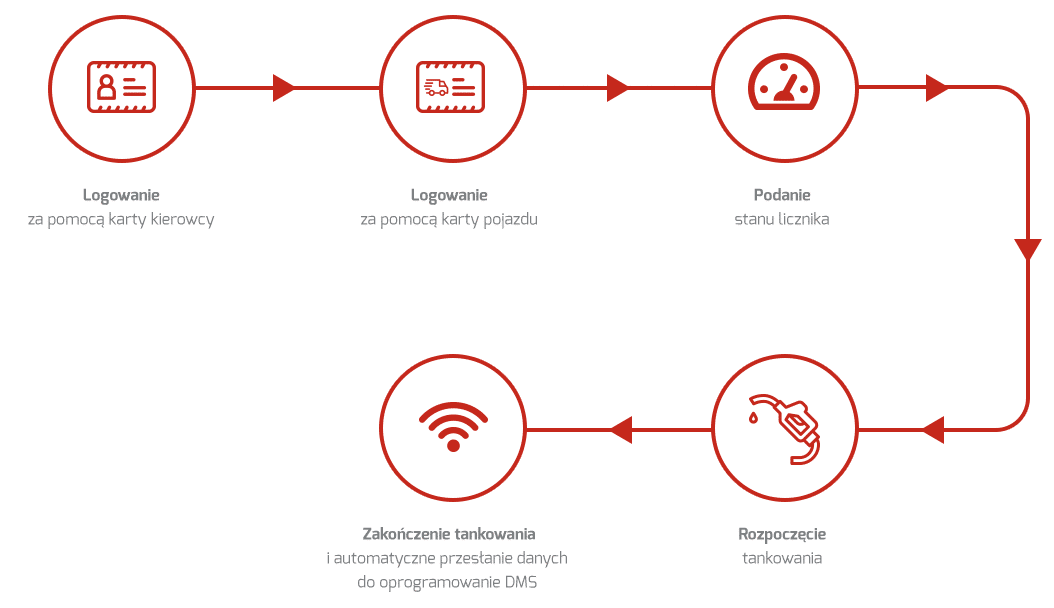 OPROGRAMOWANIE
PETROLEO DMS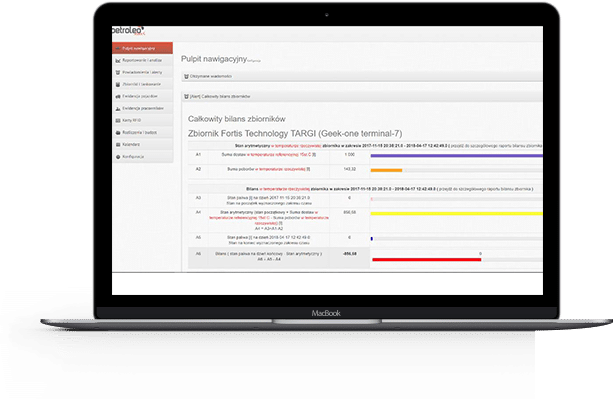 Oprogramowanie Petroleo DMS zostało od podstaw stworzone z myślą o gotowym i kompleksowym rozwiązaniu wspierającym zarządzanie paliwem. Dostęp do oprogramowania mamy z każdego miejsca na świece z dostępem do internetu – po zalogowaniu na stronie www.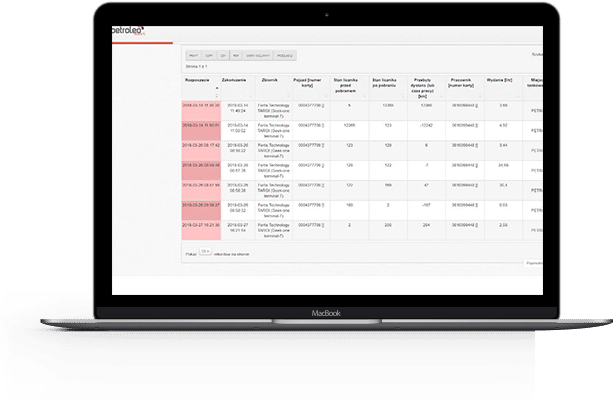 Oprogramowanie DMS to przede wszystkim:
Monitoring paliwa- bieżący podgląd stanu paliwa w zbiorniku pochodzący z dwóch źródeł – pomiaru matematycznego oraz pomiary z sond pomiarowych, co daje pewnośd co do ilości paliwa w zbiorniku
Ewidencja tankowao, dostaw oraz kosztów – wszystkie dane są automatycznie przesyłane do terminalu. Dodatkowo oprogramowanie umożliwia wprowadzanie tankowao z zewnętrznych stacji oraz import z kart paliwowych;
Raporty – wszystko w postaci raportów i alarmów generowanych automatycznie lub dostosowanych przez użytkownika. Raporty miesięczne, roczne, na pojazd, kierowcę bądź grupy pojazdów i kierowców.
Alarmy i alerty o nieprawidłowościach w gospodarce paliwami
Moduł automatycznego bilansu stanu paliwa w zbiorniku – system automatycznie generuje różnicę
Powiadomienia e-mail lub sms w czasie rzeczywistym, nawet o każdorazowym podborze paliwa przez pracownika
Moduł "Prawdopodobieostwo tankowania do kanistra";
Kontrola limitów i norm – kontrola zużycia paliwa przez pojazdy, przekroczenia norm. System umożliwia wprowadzenie limitów dla pojazdów np. dziennych czy miesięcznych.
Kalendarz przypomnieo i wiele innych.
Komunikacja GPRS + abonament miesięczny
Dane przenoszone za pomocą sieci komórkowej GPRS. Karta SIM jest dostarczana przez producenta. W ramach abonamentu, użytkownik na dostęp do oprogramowania DMS, transmisję danych oraz wsparcie HELP DESK firmy Petroleo